The Children`s World of Christmas
not only brings children's eyes to sparkle
A highlight of the Hellbrunn Adventzauber is the unique Children`s World of Christmas.The children's program has always been particularly close to the heart of the Gassner family and has been an integral part of the Hellbrunn Adventzauber since its inception. With the support of the Mülln Scouts and the Cleverly association, a Christmas experience area for our smallest guests is created year after year.
At the camp of the Müllner Scouts, children grill sausages and eat them with bread right at the campfire. They can write a letter to Christkind and bring it to the Christmas post office, or get a glittery tattoo, drive on the Christmas train, or observe the many animals – this will definitely shorten the waiting time for "Christkind", our Austrian version of Santa.
NEW 2022: Fairy Tale Treasure Hunt
We have hidden 10 different fairy-tale stops across the area to complete the hunt.
This is how it works: Take a fairy-tale pass at the entrance, find stops, recognize fairy tales, enter them, put them in the boxes at the exit & win!
An unique and incomparable Christmas experience for children and adults
NEW: TREASURE HUNT

In 2022 we have hidden 10 magical steps across the entire area to complete the hunt. At each stop try to recognize fairy tale, enter, drop in the boxes at the exits & win.

GRILL SAUSAGES

In the Mülln Scout camp, children as well as adults can grill sausages, marshmallows and bread by the open fire.

CHRISTMAS TRAIN

For most children, a ride on the Christmas train is part of a Christmas market visit. Open Wednesday to Sunday.

CHRISTMAS POST OFFICE

In cooperation with Cleverly, our wine cellar in the trick fountain area is transformed into our Christmas post office. OPEN FRI/SAT/SUN

MAKE-UP PARLOUR

Kids make-up and glitter tattoos. In our Christmas post office, the youngest can choose from over 150 motifs.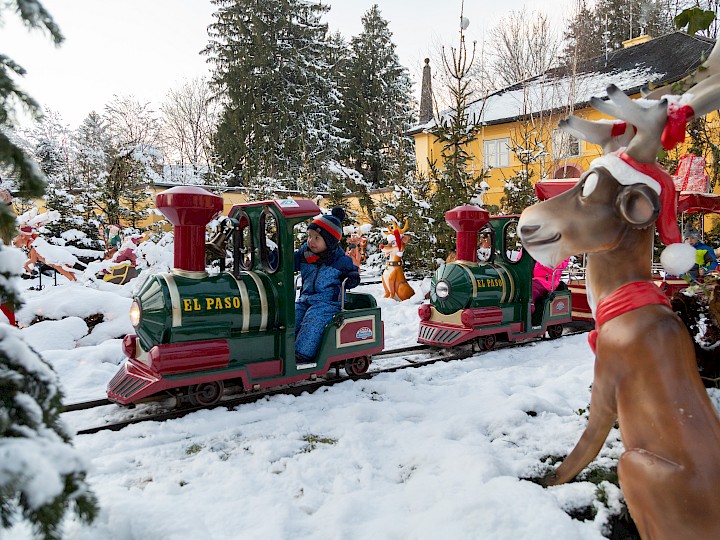 Children's Opening Weekend 19 & 20.11.2022
The Children's World of Christmas opens again this year on Saturday, 19.11. Again, this year, this first weekend is especially dedicated to children's fun. So, on these two days, the Christmas Train for the children is free!
Saturday, 19.11. & Sunday, 20.11. from 11am to 6pm